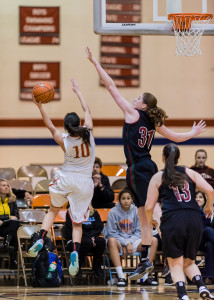 May 2014 Featured Athlete:  Marijike, Vandershaaf
Marijike Vandershaaf of Eastlake (Sammamish) was a three year varsity letter winner.  At the post position, she was named to the All Kingco 4A First team in 2013 and 2014.  She accumulated 757 Career points and 715 career rebounds.  She stacked up 36 double doubles and was in the top 5 in Kingco in points, field goal percentage and block shots.  She led the Kingco league in rebounds this past season.  Next season, she will be playing at Boise State University.
We asked Marijike to share with us some of her thoughts about your high school career.
Hard work helped me progress through the summer.  I got better and better and made progress during the season and after the summer. I started playing select basketball in ninth grade with the Tree of Hope club program. I attended a tournament in North Carolina and saw the competition and knowing that the girls I was watching and playing against is what I wanted to become.  I realized that hard work would help get me there.  My summer coach Damian Young, had high expectations for his team and each player. He knew their capabilities and wouldn't take anything less.
Coach Goldie, my high school coach, taught me the sense of family and I learned what that meant starting sophomore year in high school.  Doing things outside of basketball with my teammates helped build friendships that would last a long time. We call each other sistas and really mean it, and we have each other's backs. We expected each other to work hard and give our best as well as have fun but get the job done in the gym. I have been playing with the same group of girls since around 6th grade, a real sense of family and sistas.   This help continue Coach Goldie's belief of family and unity as a team.  Coaches put 110% all the time and more, film, scouting reports, (something that I remember and use in my life daily).
What did you feel that you learned from your basketball experience so far?
Basketball taught me that passion is contagious and to strive for the best.   I also learned time management (coach Goldie balances her family, 2nd family the EHS team, prep she put into watching film for us to be prepare), and how to prep for games which applied to school work, knowing your specific task and getting it done the right way.  And that hard work really does pay off; working harder than someone else you're competing against and having it show in the season is a great feeling.
What are you looking forward to in your future in college hoops?
I am looking forward to the high level of competition; competing against the best, trying to beat the best, and becoming the best.  I also want to be pushed to my limits physically and mentally.  College is also an opportunity to learn new basketball skill while trying to improve existing strengths and weaknesses. I want to have an impact on my team to win games (knowing what my "job" is, changes every game, rebounding, blocks).